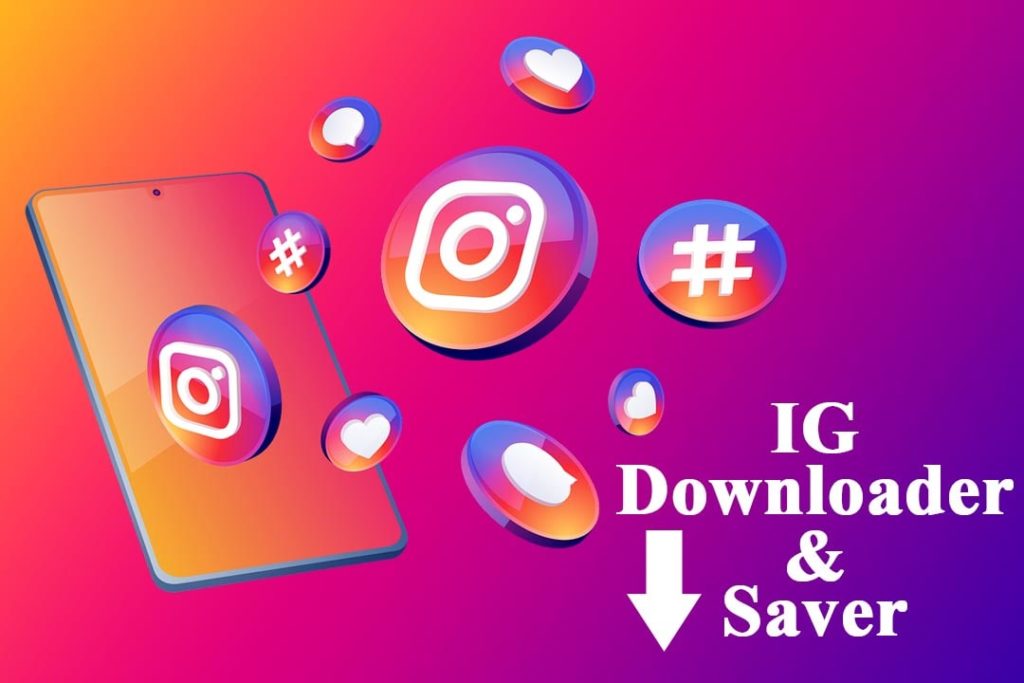 Instagram is a very popular social media network or platform where people can do lots of things. For example, you can communicate with your friends all over the world, upload your photos, videos, share stories, and a lot more. So, you need a free account to use those features on your device. Most mobile users use Instagram on their applications because it has both Android and iOS applications. But it also provides a web application for all the users. This means you can use this social media on any web device such as a PC and Laptop.
But some of the features are missing on web applications and you only can use those features on mobile only. Millions of people daily share useful and favorite content [Photos & Videos] on its platform. That's why you can explore its feed and consume the interesting content on it. You can give a like, comment, and share your favorite photos and videos on Instagram. Pretty cool, right?
Something we get informational and helpful content and we want to download them for offline view. Basically, you can save any content but you can't use them on your device offline. This means your device needs to connect to the internet. However, if you want to download particular photos or videos, then you can't do it. Now, the question is, how you can download Instagram photos, videos for free with ease. Let's dive right into the post.
Best Applications for Download Instagram Videos and Photos
To download Instagram photos or videos, you need the applications for it. Either you can use the web or mobile applications for getting those features. If you want to install the app on your mobile device then you can find some of the best app names. And if you don't want to install apps and look for a website then you are most welcome. Here we share both applications for you.
It is an Android application and if you use a smartphone then install this app from Play Store. You only need to open the Play Store and type the name. Then you get to see this application on the list. Then tap on the Install and open this app for use.
Lots of users install this app and give a good rating on the store. So, you need to try this for downloading Instagram videos and photos on your device. It has auto downloader features that allow you to download the copied post automatically. Here you get the Paste option but the app automatically processes the link and shows the post preview. And below the post preview, you find the download button for it.
This app comes with a pretty simple and lightweight design. But if I talk about its features, then you get all necessary features such as Repost, Story Saver, Photo & Video Downloader, etc. You can also repost the same post with proper hashtags and captions as well.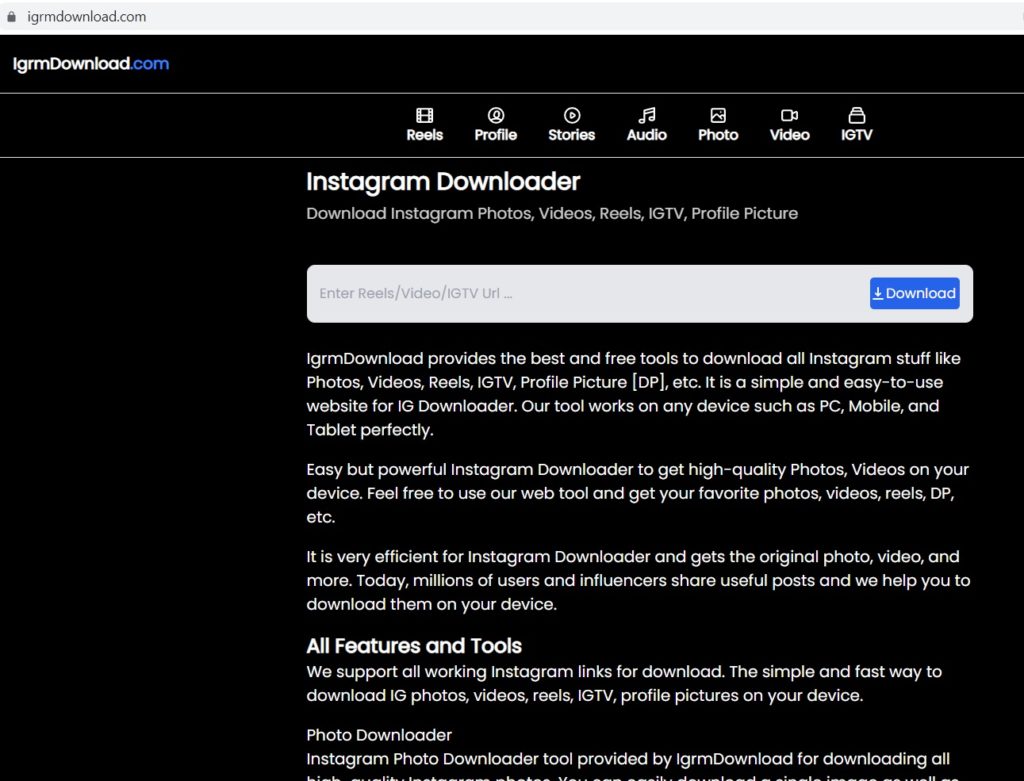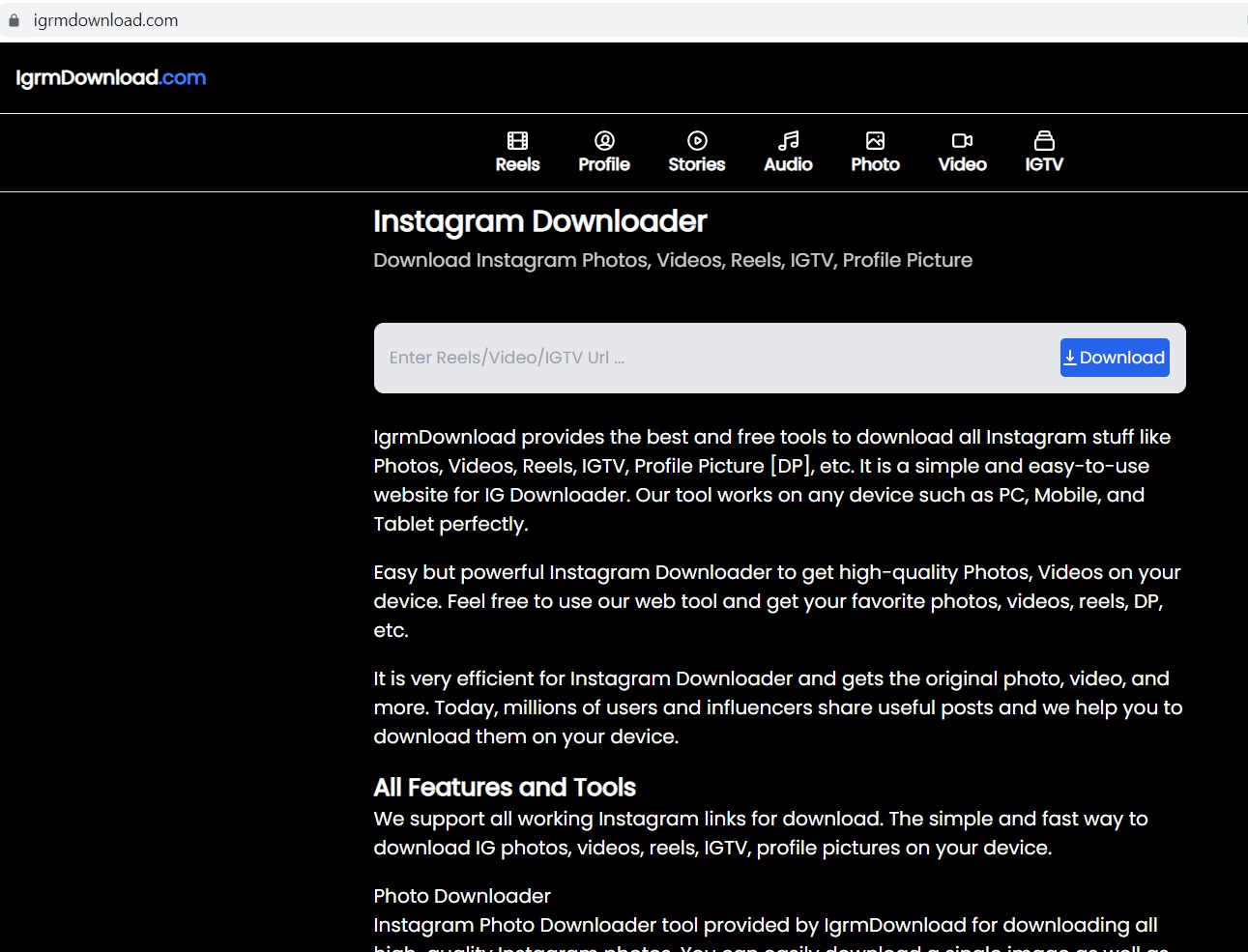 It is a web application that only works on browsers and supports all types of devices. No matter you use Android, iOS, Windows, Mac, or Chrome Device, you can use this application and download all your favorite media files for free.
So, you need to open an internet browser and visit the link. Then you have to paste the copied link of an Instagram post and click on the Download button. It is as simple as you see here. You don't need to install apps on your device or find the support apps. You can access this web application anywhere and on any device.
Now, talk about its features, it provides different types of tools such as photo downloader, video, story, DP downloader, reels, and Igtv downloader, etc. At the top, you get to see the different icons for accessing different tools for free. For example, you want to download the Profile Picture of any user on Instagram. So, you need to click on the Profile icon and see the preview and download button. I hope you definitely try igrmdownload on your device.
FastSave has its Android and iOS versions on both app stores for you. So, if you find an app for browsing and saving then FastSave is for you. It can easily download all your favorite Instagram videos & photos for free. Also, it is very capable for download and saving popular social media videos and photos.
It comes with a pretty simple and very minimal interface. You can browse any URL and if the URL has a media file then it shows the download button at the bottom of the screen. Here you need to tap one click and the file stars download on your device.
When you create a free account on Instagram, you can set a profile picture [DP]. People really want to use their favorite picture as a DP on their profile. But the size of the DP is very small and you can't zoom it right on Instagram. So, you may look for a DP viewer and downloader tool online. Right? Here IgrmDownload provides the free yet effective tool for all Instagram users DP downloaders and viewers with ease.
All you have to do is open the user profile and click on three dots. Then copy the Profile Link on your clipboard. Then come to the web tool and paste the link. After pasting the link, you can click on the Download button. Processing starts and then you are able to view the full picture and download them with a single click.
Nowadays reels become a trending topic on Instagram. Comparing the other post, reel video reach and perform much better. Users like to watch trending and new reels videos and create them. If you have an account on Instagram then you are able to watch daily new reels easily. But the issue is to download the interesting reel video on your device. Because it doesn't provide the download feature directly and you only can copy the link.
Here reels downloader comes into play. Here we provide the tool and web link to access the best reel video downloader for free. All you have to do is paste the copied link of the reel video. Then tap on the download button. It takes some time to process and then you can play the video directly and download it for free.
How to Download Instagram Videos and Photos?
To download the Instagram video or photo, you need to follow some basic and simple steps. Here we provide those steps for you.
Step #1: You need to use an application, either web, or install the application on your device.
Step #2: Paste the copied link from the Instagram post and tap on the Download button.
Step #3: Then you get the preview of the photo or video.
Step #4: You can play the video and view the photo directly.
Step#5: Get the below download button to get the photo and video.
Once you follow those five simple steps you easily download Instagram videos and photos for free.
If you download more new MOD games and applications visit our website.
Final Words
In this guide, we going to share the easy process to download all Instagram content like Photo, Video, Reel, DP, IGTV, etc. We also share some applications for easy access and download. I hope you like the post and kindly share it with your friends. If you have any questions then comment on us. We are waiting for your valuable comment. Thanks for visiting our website.